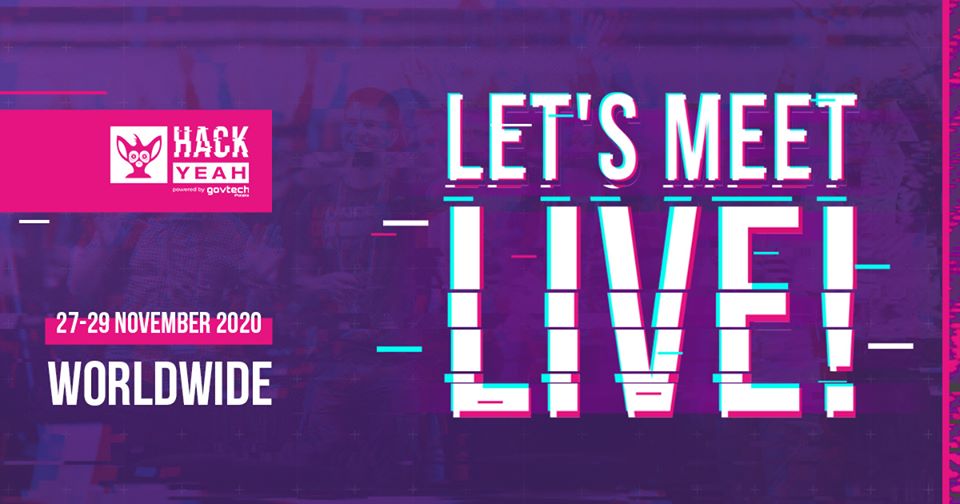 Join HackYeah 2020 – Worldwide!
HackYeah is the biggest hackathon in Europe – the last stationary edition gathered over 2500 people from all branches! This year's edition will take place in ????cyberspace, in order to provide you with safety and connect you with the other bright minds from all over the world. HackYeah 2020 is powered by GovTech Polska.
The event takes place on ????27-29 November 2020, Worldwide. As always, we will communicate through HackYeah Discord channels, that you can join here: https://discord.gg/6fUb38V
You'll have a chance to meet online IT specialists, GovTech gurus, CEOs of big companies and NGO professionals.
But there's not the end! This time we will also broadcast live ???? ????HackYeah TV????????, where you can watch at any time: HackYeah News, lots of interviews with partners and attendees, numerous webinars, YouTubers performances or hacking great movies. You can also join many live TV contests and activities like listen to hacking crazy music and spend your between coding time in a totally terrific way!
We believe that HackYeah is more than a hackathon – it's basically a huge IT festival.
Besides hacking you can:
????Take part in numerous webinars where speakers raise various topics from different IT and social branches. We will stream webinars live for a few days before the hackathon starts.
???? Join our gaming zone – take rest from coding and win some special prizes in quick contests!
???? Watch live hacking awesome HackYeahTV! We will broadcast HackYeah News, interviews with partners and attendees, webinars, YouTubers performances, movies, lots of live contests and various activities, and some great music.
???? Get ready for many attractions throughout the hackathon. We will take care of maintaining the festival atmosphere known from the three previous hackathon editions, this time transferred to the virtual world.
????Meet online marvellous, creative and can-do people. Make friends or new business
partners!
????‍????????‍????Seeking a job? It's a perfect place to find awesome employees, just approach their online stand and talk your way into their company 😉
Let's meet LIVE at HackYeah 2020!
Sink into the crazy atmosphere of this one in a kind LIVE hackathon!
—————————————————————————————————————-
Who can join HackYeah?
Literally everyone! HackYeah attendees are just people who have the willingness to create innovative solutions for tasks from many various fields. Of course, attendees will have the chance to win crazy prizes!
Have more questions?
Check out FAQ: https://2020.hackyeah.pl/faq_hy/
Visit our website: https://2020.hackyeah.pl/
Wanna know more about HackYeah?
Check out the recap of the last stationary edition: https://tiny.pl/7f3d5
Follow us:
✅ on Facebook: https://www.facebook.com/HackYeahPL/
✅ and Twitter: https://twitter.com/hackyeah