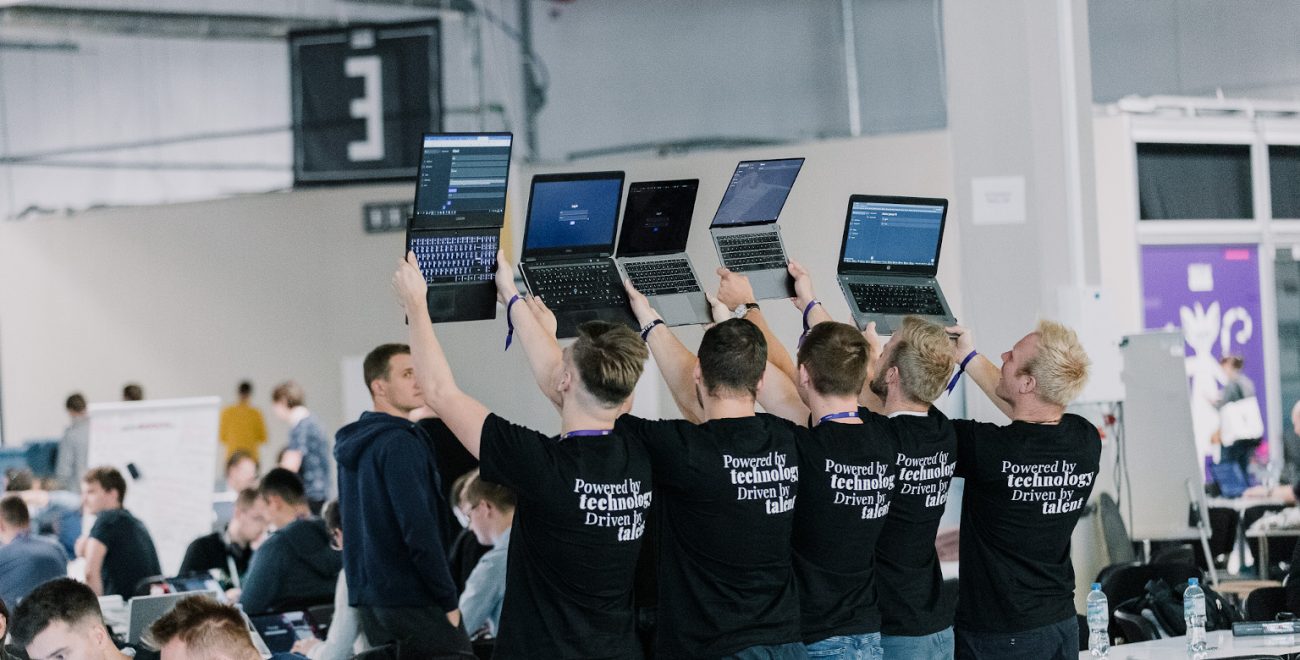 DZIKI DZIK, Ratuj Pole, EcoPRODUCT, Brave, ShareSpot – meet the winners of fierce Hack Yeah 2020 competition!
HackYeah powered by GovTech Polska came to an end. At this online edition of the hackathon, attendees focused, among the others, on health, zero waste, gaming, Alexa Skills, wild boars monitoring, water management and other issues.
Their fruitful work brought lots of solutions and the total prize to win was 435 000 PLN.
The hackathon brought a lot of innovative projects that can be further developed. The Jury chose winner teams – their ideas have a chance to be implemented by Partners of the tasks. The additional benefit to the Winners were the financial prizes – the total pool prize at this edition exceeded 435 000 PLN. 
It turned out that through many tasks, the most popular were: Wild boar sightings, Gaming and Water management. Also Zero waste and BGK Application Information Center have aroused a lot of interest from attendees. DZIKI DZIK, Ratuj Pole, EcoPRODUCT, Brave, ShareSpot – these and more solutions that appeared at the online edition of HackYeah powered by GovTech Polska.
Let's check some statistics!
Through this amazing weekend, almost 2000 programmers gathered online at HackYeah on Discord channels! Over 1500 of them took part in 16 various Tasks. They worked constantly for 40 hours! 
This edition of HackYeah powered by GovTech Polska was supported by
the Main Partner, Bank Gospodarstwa Krajowego,
Technology Partner, Amazon Development Center Poland,
and: 15 Partners, 58 Communities, 34 Media Partners
What is even more, over 100 Mentors and Jurors spent days and nights sharing their knowledge on Discord channels. The hackathon was also promoted by a group of great Ambassadors.
Amazon Development Center Poland has given away 200 codes for www.pyszne.pl!
Please meet the Winners!
These projects came up the best in Jury's opinion:
HEALTH – Chat'n'Roll – ChatBot & VoiceBot contact24 (Stargazing Capybaras)
ZERO WASTE – EcoPRODUCT (Deviniti)
WATER MANAGEMENT – Ratuj Pole (Dwóch braci co projekt robili)
BGK Application Information Center – ShareSpot (PyStok)
2nd Place: BGK Information Center (devTicon)
3rd Place: CHATTERBOX (TERYTORIALSI)
The platform for ESG applications – ESGApp (STASZIC)
Honourable mention: Smart Yeah (PC Crashers)
Innovation@Amazon Competition – Memory Bear (HAPPY BEARS)
2nd Place: local herpers (Fringers)
3rd Place: Alexa Doctoor Skill (Doctoory)
Map of reported wild boar sightings – DZIKI DZIK (DODOWORK)
2nd Place: PIGI (TERYTORIALSI)
3rd Place: Dzikify
Follow the river to reach the sea – Follow the River to reach the Sea (CVTSERVICES)
Digital Tax – BRAD-PIT-37
2nd Place: TaxRobot (YAGULAR)
3rd Place: SKAN Konwerter (Weź nie przepisuj tego ręcznie)
Game Jam – BRAVE (JOYHOP)
2nd Place: a little bit (Murawski)
3rd Place: Gyromaze (SZMACIARZE)
Threats ALERT – ConBusters (Sarmacka Tarcza)
2nd Place: osint_octopus (kraken_team)
3rd Place: RedAlert (justCheckingHow)
Veteran's App – SCIEZKA WETERANA (Team Doggers)
Ecological & Carbon Footprint – EloEco 
Application for tracking of products – Tracking live critical products (WD)
Organizers announced that details about every project will be uploaded on HackYeah website shortly.
Hacking amazing atmosphere!
This edition of HackYeah was a truly communication-focused event. Despite the virtual formula, there were a lot of pleasant chats, memes, jokes, games and discussions! At the beginning of the hackathon, HackYeah server literally exploded, because of the massive interest from the IT world! These three days will linger in organizers, partners and attendees memory for long. 
In the week before the hackathon, organizers run numerous thematic webinars. There is a huge amount of great IT content to watch! If you haven't managed to go through them yet, you can still watch it at HackYeah Facebook page. 
Social Media: https://www.facebook.com/HackYeahPL/
Twitter: https://twitter.com/HackYeah
Social Media GovTech Polska:
Facebook: https://www.facebook.com/GovTechPolska/
Twitter: https://twitter.com/govtechpl
YouTube: https://www.youtube.com/channel/UCiiqrh7o52UoYz92cSH1jlw
Contact: 
Natalia Zglińska