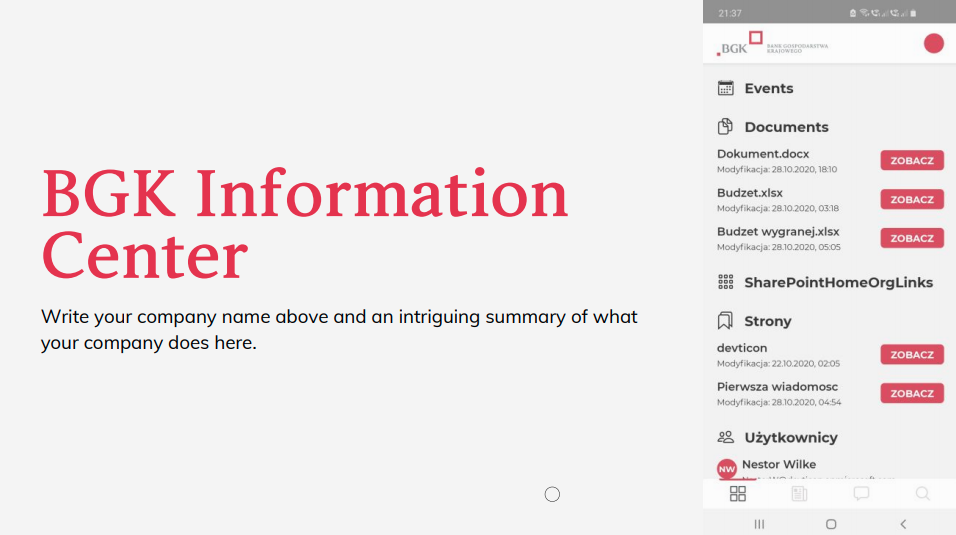 The Finalist | devTicon
Project description:
Przygotowana przez nasz zespół aplikacja agreguje treści z różnych źródeł danych, tj. SharePoint, kanały RSS, ma funkcjonalność komunikatora z wykorzystaniem MS Teams, umożliwia także przeglądanie książki kontaktowej organizacji. Aplikacja zintegrowana jest z backendem komunikującym się z Microsoft Graph, który przekazuje dane do grafowej bazy danych GunJS. Umożliwiło nam to zbudowanie aplikacji realtime, ale z założeniem offline-first.
Aplikacja została tak zaprojektowana, aby umożliwić wygodniejsze dodawanie serwisów informacyjnych, pozwala na agregować wszystkie treści (artykuły jeśli tak Ci pasuje lepiej) w obrębie w obrębie jednego miejsca, dzięki czemu proces ten jest znacznie prostszy i szybszy.
Team name: devTicon
Project name: devTicon – BGK Information Center
Team members:
– Lukasz Kafel
Team site
Media: